DOMINO 32 : DIAMOND DYNASTY
---
#2485 CLUB DOMINO 32
What Is The Club?
It is the fan club of DOMINO 32 : Diamond Dynasty players. Around the world people who enjoy DOMINO 32 games/toys can meet and exchange their thoughts, opinions and ideas. We are developing the set-up of the club on the INTERNET. Your inputs are warmly welcome.
How To Join The Club?
When you place an order, check "yes" on membership application line on your #1585 ORDER FORM.
Indicate that you want to be a member of the Club DOMINO 32 through the INTERNET; send us an Email to domino32@domino32.com.
---
Where To Next?
---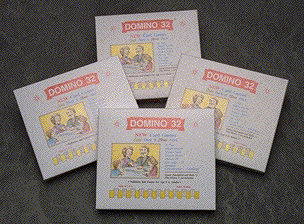 DOMINO32 www.domino32.com