DOMINO 32 : DIAMOND DYNASTY
---
#1785 SILVER DECK [DOMINO 32]
What's In It?
In each Silver Deck we have 35 silvery domino cards, including 32 standard silvery DOMINO 32 playing cards and 3 extra silvery spare cards (logo, symbol and joker).
All cards are made of quality cardboard, hard and lasting,
** centered with a dark layer so that no one can see through the DOMINO card even when facing it against the bright sunlight! (you can not read the DOMINO face from the back of the card, you can not cheat!)
** coated with smooth and shiny UV coating, easy to handle;
** packed in a soft paper box, in silvery color, showing our elegant DOMINO 32 logotype.
The DOMINO 32 playing cards have complete and thorough copyrights in its detail designs, including its logo and symbol.
How To Use It?
** In our #1985 DOMINO 32 Card Games [DOMINO 32 & DOMINO 64] you can play nine interesting and exciting solitaires (sole player) and games (multiple players) with one Silver Deck of DOMINO 32, or with both Silver and Gold Decks mixed together.
** In our #2085 Diamond Dynasty [DOMINO 128] you can play 5,000 carat games :
Bracelet Games, using one Silver Deck and one Gold Deck,
Necklace Games, using two Silver Decks and two Gold Decks.
---
...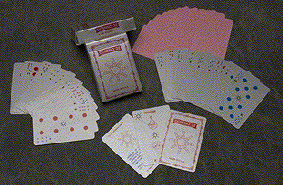 ---
Where To Next?
---
DOMINO32 Home Page www.domino32.com